Applications/PaCeQuantToolset: Difference between revisions
From MiToBo
Jump to navigation
Jump to search
 

Line 3:
Line 3:





The [[Applications/PaCeQuant|PaCeQuant plugin]] for fully automatic cell segmentation and shape feature extraction is part of MiToBo since release 1.8.6.  

The [[Applications/PaCeQuant|PaCeQuant plugin]] for fully automatic cell segmentation and shape feature extraction is part of MiToBo since release 1.8.6.  

<br>

<br>





---
Latest revision as of 17:13, 16 May 2020
The PaCeQuant Plugin and Corresponding Tools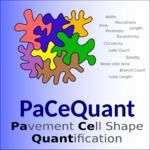 The PaCeQuant plugin for fully automatic cell segmentation and shape feature extraction is part of MiToBo since release 1.8.6.
In MiToBo version 2.0 released in May 2020 it got an update which added the largest empty circle as shape criterion to PaCeQuant's feature set.

More details about the plugin and its usage can be found on the PaCeQuant's website.

Main publication:
Over the time the main plugin has been supplemented with several complementary tools to ease cell shape analysis and feature visualization:

the R package PaCeQuantAna for statistical analysis of feature data and creation of publication-ready plots of feature distributions and statistical analysis results


Further references where PaCeQuant and the tools are documented or have been used:
Y. Poeschl, B. Möller, L. Müller, and K. Bürstenbinder,
User-friendly assessment of pavement cell shape features with PaCeQuant: Novel functions and tools.
In Methods in Cell Biology, Academic Press, 2020.
B. Möller, Y. Poeschl, S. Klemm, and K. Bürstenbinder,
Morphological Analysis of Leaf Epidermis Pavement Cells with PaCeQuant.
In F. Cvrčková and V. Žárský, editors, Plant Cell Morphogenesis: Methods and Protocols, chapter 22, pages 329-349, Springer New York, New York, NY, 2019.
D. Mitra, S. Klemm, P. Kumari, J. Quegwer, B. Möller, Y. Poeschl, P. Pflug, G. Stamm, S. Abel, K. Bürstenbinder,
Microtubule-associated protein IQ67 DOMAIN5 regulates morphogenesis of leaf pavement cells in Arabidopsis thaliana.
In Journal of Experimental Botany, 70(2):529-543, January 2019.


PaCeQuant and the different tools have been developed in close collaboration with...